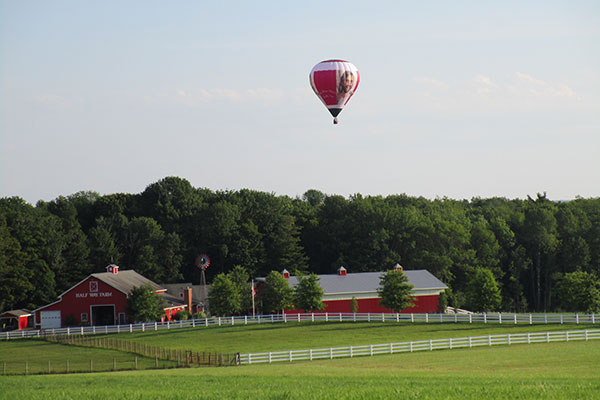 1) EXPIRATION
Gift Certificates/Boarding Passes are valid for a period of one year from the date of issue. No refund of any kind will be made after the expiration date of the certificate.
2) TRANSFERABILITY
Certificates are transferable to other eligible passengers. The original expiration date applies.
3) NON-REFUNDABLE BOOKING FEE
A 50% Booking Fee will be retained on ALL refunds, (refunds will be made to the original purchaser only in the same form as payment was delivered)
4) WEIGHT DISCLOSURE
You are asked on the passenger information form to disclose your weight fully clothed. This is very important, for flights of four riders. If this weigh is not conveyed in advance or is off by more than ten (40) lbs total for four passengers, your flight may be rescheduled. All flights are subject to weight limitations that vary with temperature, humidity and atmospheric pressure. Please check with us if you expect your party to exceed 900 lbs.
5) LATE CANCELLATION
Once a ride has been booked, if canceled by the customer with less than 72 hour notice, NO REFUND OR REBOOKING WILL BE MADE. Reserved rides, where riders do not show, or cancel with less than 72 hours in advance their card will be billed.
6) FLIGHT DURATION
Flights are typically approximately 1 hour in duration. If the flight must be terminated (at the pilots discretion) in less than 30 minutes, the passenger will be offered either a 50% refund or another flight.
7) TARDINESS
Failure to be at the launch site at the appointed time will void the minimum 30 minute guarantee. Tardiness of more than 15 minutes in launch site arrival will be handled as a LATE CANCELLATION. (See 5)
8) WEATHER CANCELLATION
In the event of flight cancellation due to weather (at the sole discretion of the pilot), an alternate date will be scheduled for the balloon flight. In the event that this is not possible the above TRANSFERABILITY and NON-REFUNDABLE BOOKING FEE conditions apply.
9) PASSENGER PHYSICAL CONDITION
The prospective passenger is responsible for determining, their fitness and the appropriateness of their participating in ballooning activities, if necessary this should be done jointly with his/her physician. The medical survey portion of the passenger information form is intended to screen prospective passengers; however it is by no means all inclusive. If there is any doubt as to fitness with regard to the survey, or any other criteria, it is the prospective passenger's responsibility to assure fitness for flight. Any prospective passenger answering yes to any of the medical survey questions may be asked to present proof of their doctor's consent for them to participate. This should be done in advance of the scheduled flight. If flight fitness is in question just prior to flight, the prospective passenger will not be carried aloft. The NON-REFUNDABLE BOOKING FEE APPLIES. No rebooking will take place if the ride has to be denied due to failure to assure fitness for flight. (You may wish to verify fitness for flight before booking your flight)
10) NO SMOKING
No smoking near the balloon, in the basket, in or near the chase vehicles.
11) NO ALCOHOL
No alcohol is permitted before the flight. Alcohol's effects at altitude are potentially dangerous. No passenger who is visibly intoxicated or whose breath smells of alcohol will be carried aloft. Arrival at the launch field in this condition will be handled as a LATE CANCELLATION.
12) PASSENGER RESPONSIBILITY IN FLIGHT
The passenger must understand the ground briefing, affirm that he/she understands the briefing, and follow the directions of the pilot throughout the flight.
13) WAIVER/RELEASE/HOLD HARMLESS
Hot air ballooning does involve some risks, and hazards due to the nature of the flight and outdoor activities on rural property. You will be requested to sign an "Acknowledgement of Risk & Responsibility / Waiver / Release / Hold Harmless Agreement" prior to your flight.